Our Countertop Products in Granite City, IL!
When choosing a countertop material for your next home update, it's important to consider a variety of factors. Price versus durability is certainly an important factor, but you should also examine what room this countertop will reside in and whether or not the material in question will live up to the needs of that room. Here are some recommendations from our countertop specialists!
For kitchens, we highly recommend granite or quartz countertops.
Quartz
Resistant to knife cuts, stains, and bacteria
Won't chip or crack
Does not require sealing
Gives a very contemporary look – might not be ideal for traditional style kitchens
Seams are more noticeable than other materials
Maybe a bit pricey for some
Granite
Highly regarded amongst home features
Gives off a natural beauty, fitting into most any kitchen style
Crack and chip resistant
More heat resistant than quartz
Annual sealing required for stain resistance
Seams may be difficult to hide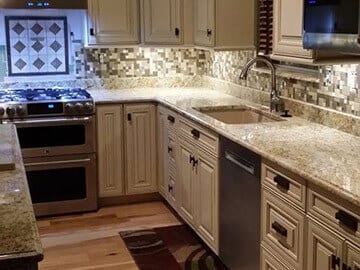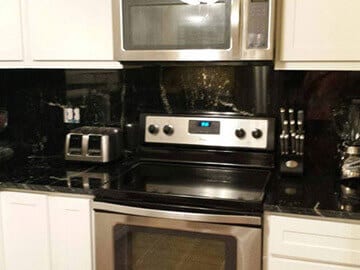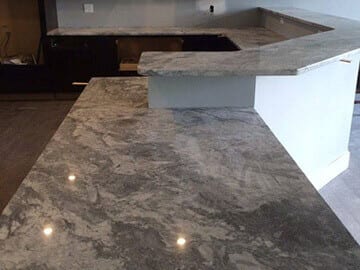 Marble
Gives counters and showers an elegant look
Available in a rainbow of colors
More susceptible to staining than most other materials
Requires proper maintenance – best for gentle usage locations
Limestone
Available in an assortment of colors
Very absorbent, meaning that regular cleaning and maintenance is a must
Gives a primitive appeal – great for informal room designs
Often has a matte finish
Granite
Its rich look and hard rock finish has made granite the premier choice of natural stone
Very durable – it's nearly impossible to scratch
Bacteria resistant and, with proper sealing, stain-resistant
Available in an assortment of color
Slate
This material naturally splits into layers that are perfect for countertops
Most often comes in gray, black or green
A more informal, organic-looking material
Softer than granite, but still extremely durable
Resistant to staining
Soapstone
A dense, non-porous material that's resistant to stains and needs little maintenance
Resilient to heat but softer than most other materials
Typically gray in color
Whatever type of material you're looking for, East Side Marble & Granite will make sure you get the best possible results for your kitchen or bath. Call our staff to schedule your free in-home estimate and expert measuring!
Serving the 62040 zip code and all surrounding areas!